Notts Sport involved in another top class facility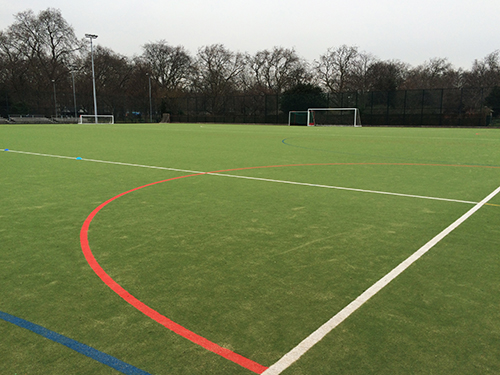 Notts Sport, the official facilities partners of England Hockey, have delivered another state of the art synthetic hockey pitch project to add to their extensive portfolio of high quality hockey facilities across the UK.
The facility at Boston College in Lincolnshire was completed in February 2015 and the project brief included not just the resurfacing of an existing synthetic pitch but associated features such as new floodlighting and new fencing were also installed as part of the design and specification.
The old surface was already 10 years old when Notts Sport completed a free, no-obligation pitch condition survey in 2012 at which point it was discovered that it was in very poor condition with a resurfacing project planned for 2014/15.
From that first contact, Notts Sport worked with Boston College and England Hockey through the early stages of the development as the project team began identifying a suitable funding route for the college until a breakthrough was made in September 2014.
The funding Boston College received allowed Notts Sport to undertake a competitive tender process with a range of independent contractors for the contract to resurface the pitch with a new FIH compliant surface (England Hockey Category 3) sand filled grass, a new insitu rubber shock pad, new floodlighting, fencing and equipment goals. Along with Hockey the Boston College pitch is also suitable for non competitive football and other sports such as tennis and netball, allowing the students to participate in various sports.
Marie Cooksey from Notts Sport who led the project with Boston College throughout the entire process had this to say about the project. "When I first met the PE staff at the College they were desperate to find a way to replace their disused, run down facility to improve the students sports provision. Following the pitch condition report carried out in September 2012 it was clear that a new surfacing system, fencing and floodlighting were required for the facility to be brought back to modern day standards, as much of the pitch infrastructure was over 20 years old.
There was unfortunately no easy fix for this project. The pitch was forced to closed down in the short term whilst funding options for the much needed refurbishment could take place. I worked closely with Rebecca Clark the College External Funding Manager over a period of two years, providing technical support and specialist guidance.
Following the eventual successful combination of College and external funding (Sport England, England Hockey and WREN), Notts Sport were formally appointed as the Design Consultants and Project Managers. I then worked with a third contact at the College, Shawn Thomas the College Estates Manager for the construction delivery period.
The facility was fully refurbished and completed in February 2015. It was such a fantastic transformation of the facility and to see sport being played on the surface again. The pitch is completely unrecognisable thanks to the quality installation completed by the appointed contractor Charles Lawrence Surfaces who were awarded the contract after the tender process and Halliday Lighting for their specialist lighting provision"
Marie received some excellent feedback from Shawn Thomas, Estates Manager at Boston College. "Marie did a great job in patiently supporting me through the maze of options and as we secured funding and then lost it again, she also kept in regular contact and offered alternative solutions. I believe that her and Notts Sport's relationships with England Hockey were ultimately of great assistance in helping us secure the last piece of funding for the project so we are very grateful for that.
It has been a pleasure to work with Notts Sport on this project and we would like to thank Marie and the team for the service they provided over a 2 year period, during which we always received prompt, helpful responses and good advice."
Notts Sport specialise in the design, development and delivery of synthetic grass sport, play and cricket projects, working at risk until construction to guide customers through all stages required to completion and beyond.
Notts Sport pride themselves on their constant ability to meet and exceed customers expectations at every stage.